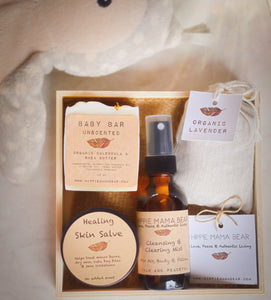 Baby Box
Regular price
Sale price
$65.00
---
Our Baby Box is jam packed full of organic, nourishing, calming and gentle products for your young child.

Starting with our Healing Skin Salve. It is a multi purpose salve that can be used all over baby's skin. It's great for diaper rash, chapped dry skin and any little irritations. The symbiotic relationship between Calendula, Lavender and Plantian along with other healing ingredients like Shea Butter, Sweet Almond Oil and Castor Oil creates a salve that will help heal and soothe skin irritations, eczema, psoriasis, minor cuts and burns, insect bites and dry and cracked skin. Healing Skin Salve will help reduce inflammation and discomfort and prepare the skin to begin the healing process quickly. Parents can use this too. A little goes a long way.
Calm & Peaceful Cleansing & Clearing Mist says it right in the name. Helping to calm and lull to sleep with a gentle scent of lavender, Orange, Rose Geranium and Citronella. It helps to create a serene and peaceful environment. Spray on linens, babies collar or in the air and of course parents can sneak a couple sprays to help with much needed relaxation after bedtime. 
Baby Bar Soap is unscented with the simplest of ingredients for your youngster's sensitive skin. Enriched with soothing Shea Butter and Calendula to help keep babies new skin hydrated and cleansed. Simple, clean and chock full of all the antioxidants and vitamins to keep skin healthy. 

Our Lavender Sachet can be put in babies drawer or closet to add a nice natural, chemical free scent. 

Ingredients:
Healing Skin Salve; Organic Olive Oil, Organic Castor Oil, Organic Almond Oil, Organic Calendula, Wild Plantago Major, Organic Lavender, Local Beeswax, Organic Shea Butter
Note: Product is temperature sensitive and may soften in extreme heat and harden in extreme cold. This does not interfere with its effectiveness. 

Comes in a 56ml amber glass recyclable jar
(Always do a small patch test on skin with all products to make sure there are no allergies) 

Cleansing & Clearing Mist; Calm & Peaceful- Filtered Water, Sun Dried and Infused *Lavender and *Calendula, Almond Oil, *Essential Oils, Lavender, Orange, Rose Geranium, Citronella. *Organic
 Comes in a 56ml amber glass recyclable bottle.
Baby Bar; Saponified *Coconut Oil & *Olive Oil, *Shea butter, *Calendula. *Organic
125 grams
Lavender Sachet; Organic Lavender